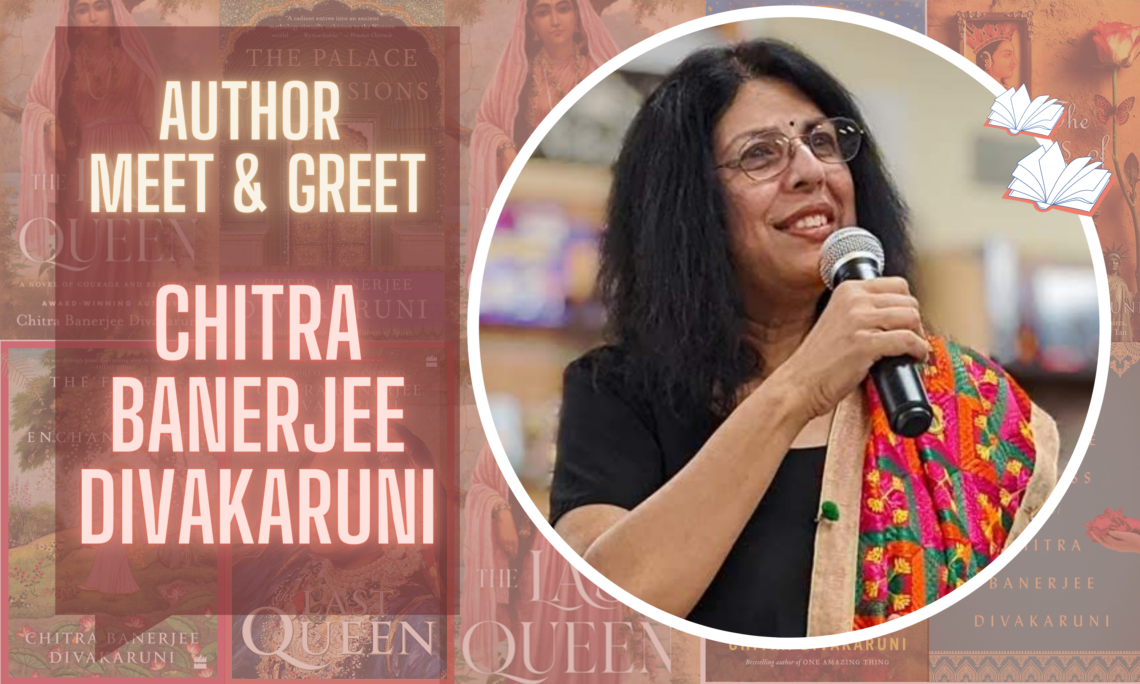 Chitra Banerjee Divakaruni Talks On Bringing Women To Center Stage: Author Spotlight
"I recognize what they are singing. It's not Valmiki's great epic! They're singing the pages I'd written in my lonely darkness, out of the need to give voice to all of us who were pushed to the edges. Misjudged, misunderstood. My truth, and the truth of women, whose lives touched mine for better or worse. Their laughter and tears, their triumph and suffering, their blessings and curses." – Chitra Banerjee Divakaruni
Women in history and mythology have rarely been portrayed, if at all mentioned elaborately, with honesty, vulnerability, free of prejudice and crediting to the successes they have always deserved. We know of Draupadi and Sita as being dutiful wives of greater men and victims of weaker men, we know queens from history as mere ornaments sitting on bejeweled thrones besides the rulers, we know women in fiction as being sidekicks to other people's ambitions. Why doesn't our history tell us stories of ambitious women who were successful and wise rulers, women who were entrepreneurs triumphing through their challenges, women who took the flight of independence and self-discovery? Who will fill these gaps in history?
Meeting Author Chitra Banerjee Divakaruni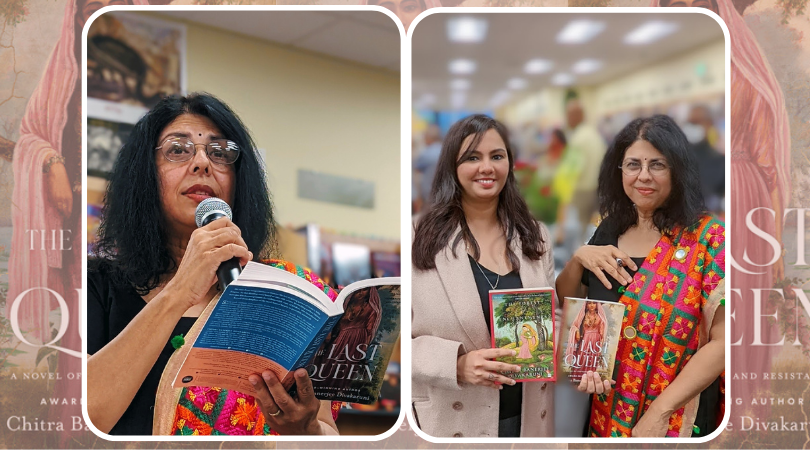 Recently, I had the lucky chance to meet award winning Indian-American author Chitra Banerjee Divakaruni in the Bay Area during her book tour of her latest book release — The Last Queen. And when asked why she's spent decades writing about women leads in her books ranging from magical realism to mythology retellings, and now historical fiction, she responded – "History has always been written by men, including the stories of women. And there is nothing wrong in that per se. But when a woman views, observes and attempts to tell a female lead's story, it is through an entirely different lens – one of sensitivity, empathy and raw vulnerability."
Book Highlight: The Forest Of Enchantments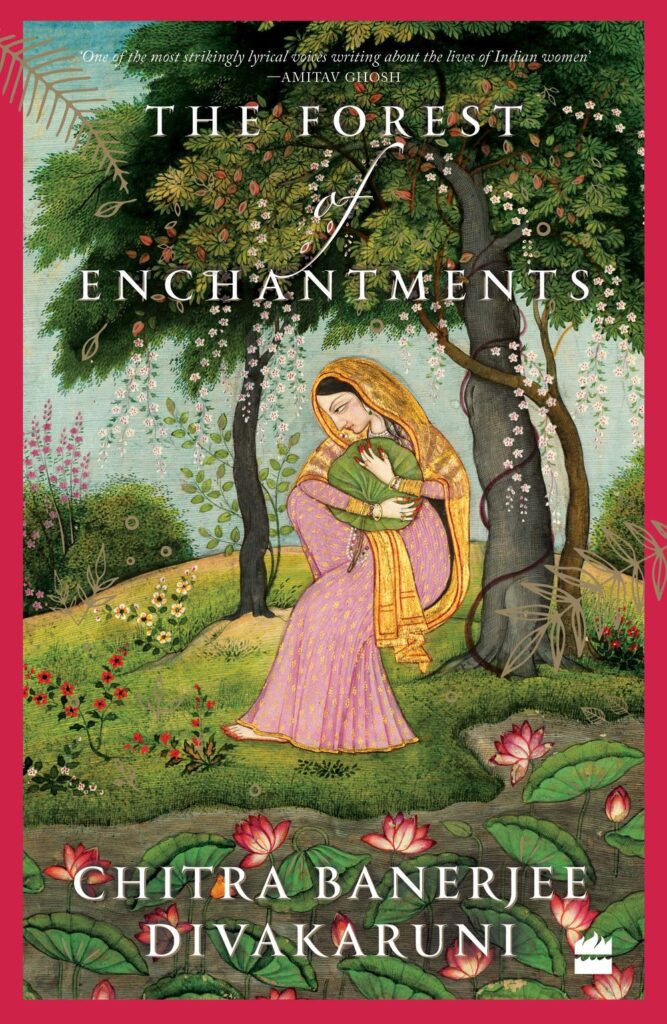 I fully agree to this thought of Chitra's as I can attest to my own experience of reading her books. My first read, and personal favorite so far, is The Forest Of Enchantments – an utterly chilling, deeply layered, magnetic and bold account of an integral character from the Indian epic Ramayana – Sita. One of the world's greatest epics, this is also a tragic love story. The book was simply too difficult to put down and for days I was lost in the world and journey of Sita, from the day she was born to the unfortunate day and circumstances that led to her death. Growing up in Asia, we have been singing the accolades of Lord Ram, and viewed Sita as only his obedient dutiful wife, fit to look and be his queen, and ready to follow him with every decision he made (literally following him into a forest for fourteen years). However, as historians and mythology experts around the world observe, there is a lot to unpack still, and Chitra has done that with wonderful writing keeping readers on the hook with every single page — not a word misplaced, and no preferential treatment given to any character. She makes all the gods human and looks at their actions with truth and objectivity. She takes away the need for women to be pure, divine, flawless, and sacrificial in nature. And this is a recurring theme in all of her books. She makes all her characters, including her leading women, accountable for their words, actions and decisions – be it wars or love. 
If you reject me now, word will travel all across Bharatvarsha, and men everywhere will feel that they, too, can reject a wife who has been abducted. Or even been touched against her will. Countless innocent women – as innocent as I am – will be shunned and punished because of your act. Is that dharma?

~ Sita to Lord Ram
Read more about her thoughts on writing this book here, and watch how it is relevant to us even today.
New Book: The Last Queen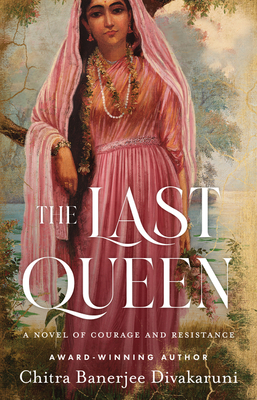 Her latest book The Last Queen recently launched in India and the US, and is already garnering raving reviews from readers. At her recent book tour in the US, she has been reading excerpts from her book to give a sneak peek of the story of Maharani Jindan, the indomitable queen regent of Punjab who fought the British in many ingenious ways.
In person, Chitra is very polite with a warm, welcoming smile and love in her eyes for all the readers who were gathered to meet her at Books Inc, Mountain View, CA. She shared plenty of anecdotes about her journey as an author, why she chooses the stories she writes, and how she came upon Rani Jindan's story and immediately started exploring the history of this forgotten Indian Queen (she first saw and was impressed by the only existing painting of Queen Jindan flashed on the screen at a history event being led by historian and author William Dalrymple). Through the process of writing this story and learning from the life of Rani Jindan, Chitra says the takeaway for her was:
While it may not be possible to control the forces of destiny, it is possible to respond to them with nobility and courage.
Q&A with Chitra Banerjee Divakaruni
# What fascinates you about Indian Mythology and how do you think it resonates on a global scale through retellings from your books?
I love Indian Mythology because it is timeless and relevant even today — the lessons, the stories, and characters offer us are very helpful in shaping our lives and helping us meet our challenges. Also our mythology has great female characters – fascinating and inspiring. I am very thankful that my books have been translated into over 20 languages now and are available in many countries. It makes me happy to share these marvelous stories with global readers. 
# Women hold the central stage in all of your books. Can you describe what readers can learn in this aspect?
For so many centuries most writers were male — I want to correct that imbalance a little bit. I want readers to see the world through women's eyes and feel their special challenges. The meaning of the tale changes according to who the teller is, so I want readers to see what the great events of the Ramayana and Mahabharata looked like and felt like to the women who were experiencing them. For women readers, this I hope gives them encouragement to look at and interpret their world for themselves, not take society's view as the only correct one. For men readers, I hope it creates empathy for what women go through as well as admiration for their strength.
# How do you make the learnings from mythological stories relevant to people, especially women from the Asian diaspora?
These are great human stories about love, loss, compassion, greed, and women's struggle to live with dignity. They are already timeless and relevant. The only thing I try to do is give my narrators a contemporary/universal voice and thoughts (often rebellious, sometimes sarcastic, sometimes loving and protective, always questioning) that today's readers, especially diasporic Asian or South Asian women might relate to.
# Is there any instance of praise or constructive feedback on your books that has been very memorable to you?
Sometimes people tell me they understand the world better after reading my books, and they understand themselves better as well. That is, for me, a great compliment. Sometimes they say that my heroines have inspired and given them strength as they go through their own difficulties. That really makes me happy.
# Tell us more about your new book "The Last Queen". What should the readers expect from it?
I am very excited to share THE LAST QUEEN with readers in India and the US. Though I have focused on the past through mythology, this venture was completely different and needed a lot of historical research — not only books but also letters, diaries, paintings, contemporary songs, etc. It is a novel about an amazing but sadly largely forgotten woman, a great queen and mother, a courageous human being, and a freedom fighter. I think it can inspire us to fight on in the face of dangers and difficulties.
Book Synopsis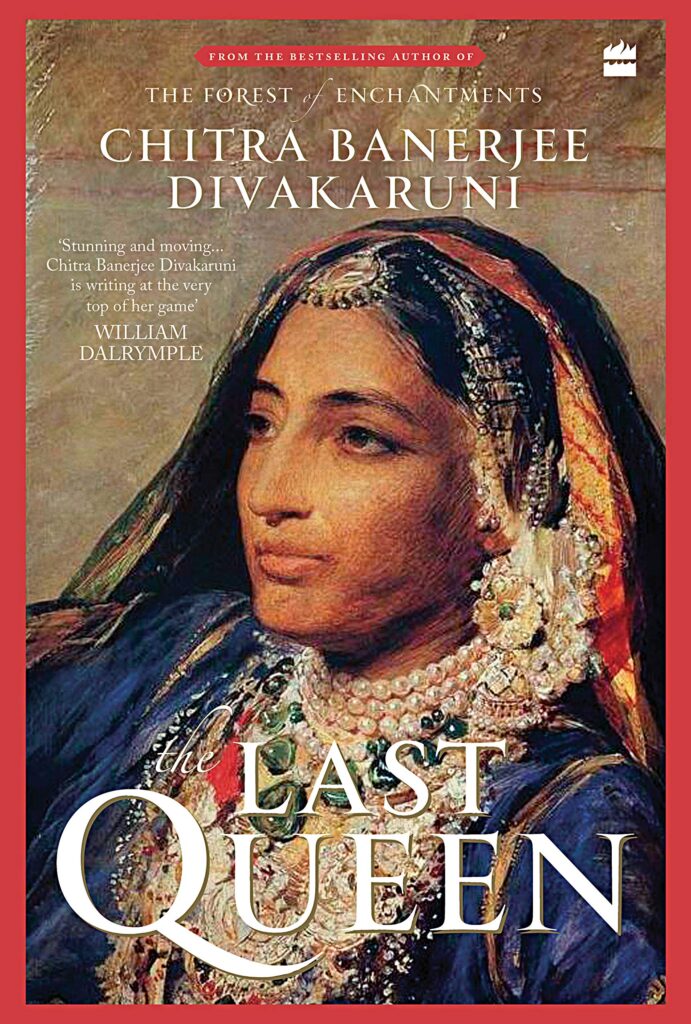 "I am Rani Jindan, Mother of the Khalsa.
That is my identity. That is my fate."
The Last Queen is a historical novel set in the 1800s in India and spotlights the amazing yet largely forgotten Maharani Jindan Kaur, the youngest wife of the great king of Punjab, Maharaja Ranjit Singh. The daughter of a kennel keeper at the Lahore Qila, the beautiful, intelligent and high-spirited Jindan became Ranjit Singh's favorite (and last) wife. Widowed at an early age, she fought with great courage against her own courtiers and against the British to preserve the kingdom for her infant son. An exquisite love story of a king and a commoner, a cautionary tale about loyalty and betrayal, and a powerful parable of the indestructible bond between mother and child, Chitra Banerjee Divakaruni's unforgettable novel brings alive one of the most fearless women of the nineteenth century, an inspiration for our times. Her adventures form the tale of The Last Queen.
The Last Queen became a # 1 National Bestseller in India (2021) and won two major awards, the Best Book of 2022 Award from The International Association of Working Women and the Best Fiction 2022 Award from The Times of India AUTHER awards. It has been longlisted for the Dublin Literary Award and Publishing Next prize. It has also been optioned for a film.
---
Other Published Works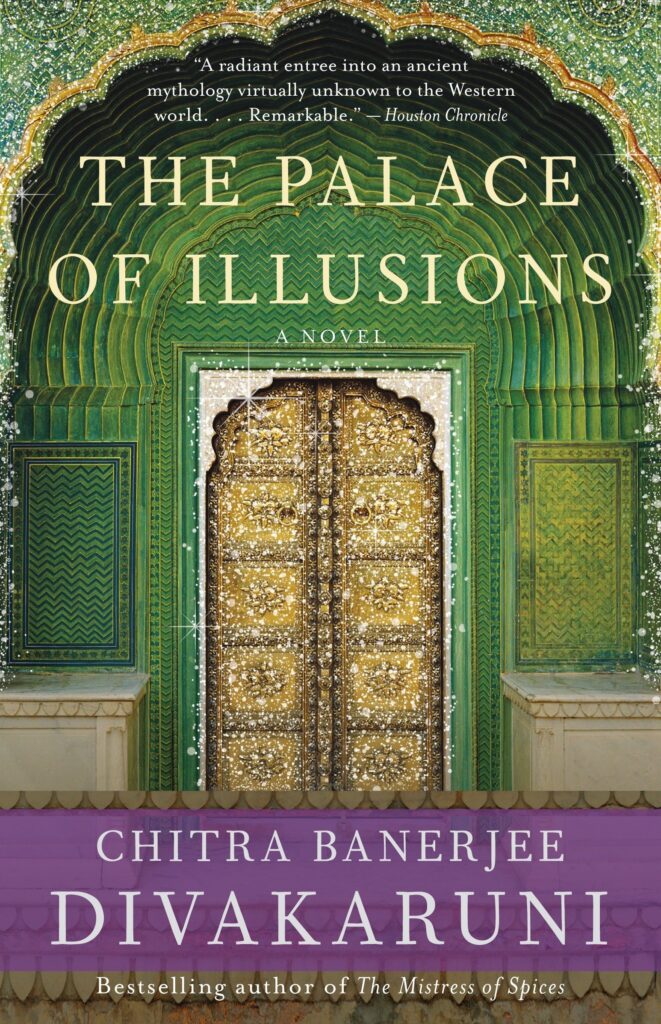 Chitra Banerjee Divakaruni's book collection includes one of her most popular and critically acclaimed books of all time, The Palace Of Illusions, which is a creative illuminating feminist work retelling the story of Draupadi from Mahabharata. Other publications include The Mistress Of Spices, Sister of My Heart, Oleander Girl, Before We Visit The Goddess and many more, a total of 20 published works of fiction. She often writes about contemporary life in America and India, women's experiences, immigration, history, magical realism and mythology. Her books have been translated into 29 languages, including Dutch, Hebrew, Bengali, Hungarian, Turkish, Hindi and Japanese, and have been bestsellers nationally and internationally. Several of them have been adopted into films and plays, most recent upcoming projects being films adapted from her books The Palace Of Illusions and The Last Queen. I cannot wait to watch them!
---
I hope you enjoyed reading this book blog. Which is your favorite book by Chitra Banerjee Divakaruni? Let me know in the comments below! If you are looking for more book reviews, recommendations and author interviews, check out the books section on my blog. Happy Reading! 📖