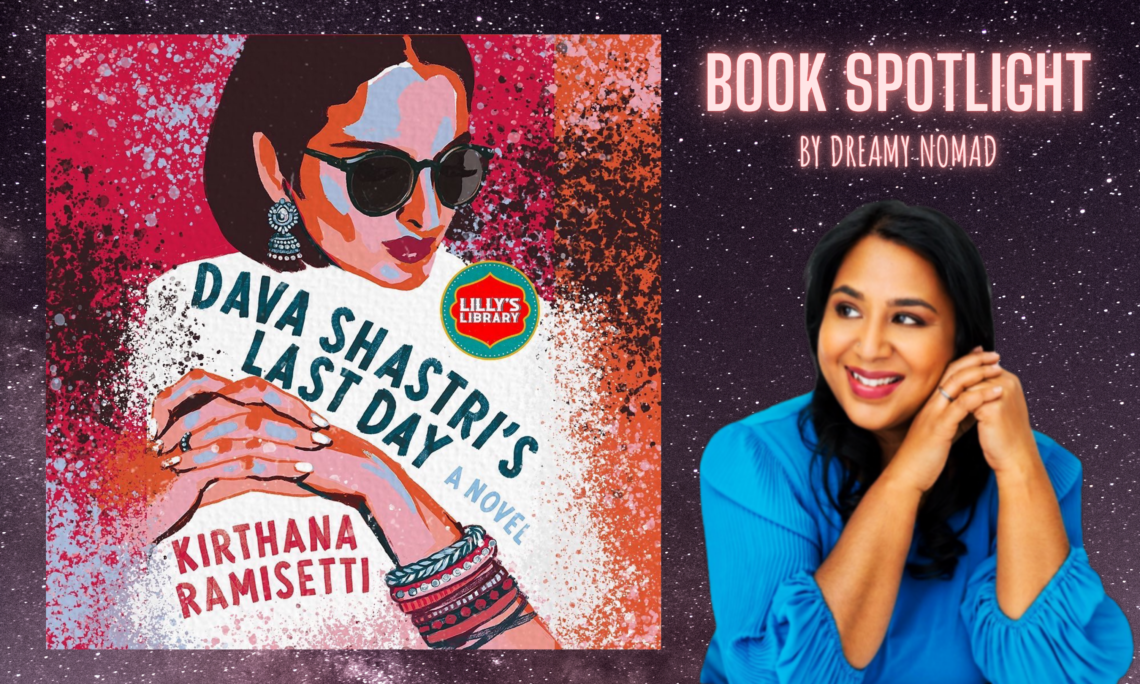 Dava Shastri's Last Day: Book Spotlight & Author Interview
"I started my book with a question that largely had to do with themes related to celebrity, legacy, and ego. I completed it by receiving answers I did not know I was seeking: about love, empathy, and gratitude; about the ways our families shape us, sometimes in ways we can never fully understand; about how personal narratives can be read very differently, depending on who's turning the page." – Kirthana Ramsetti, Author of Dava Shashtri's Last Day
Dava Shashtri's Last Day by Kirthana Ramsetti has taken the literary world by a storm and it is still on all our minds. As I finished reading this amazing debut novel earlier this year, I was overwhelmed with a lot of emotions and thoughts. I've had time to fully digest it and re-read Kirthana's afterword where she gives more insight on her journey of writing this story. I'm spellbound by the world of Dava, her flawed yet beautiful way of looking it and her grit and determination of making it a better place. There is a constant tight-rope walked by her over trying to build a legacy centered around her, and also looking out for the world and willing to make a positive impact.
I would give this book a solid 4 stars, and I highly recommend it to everyone as it is a classic multi-genre fiction written with the finesse of a seasoned masterful author, who in fact was publishing her first book.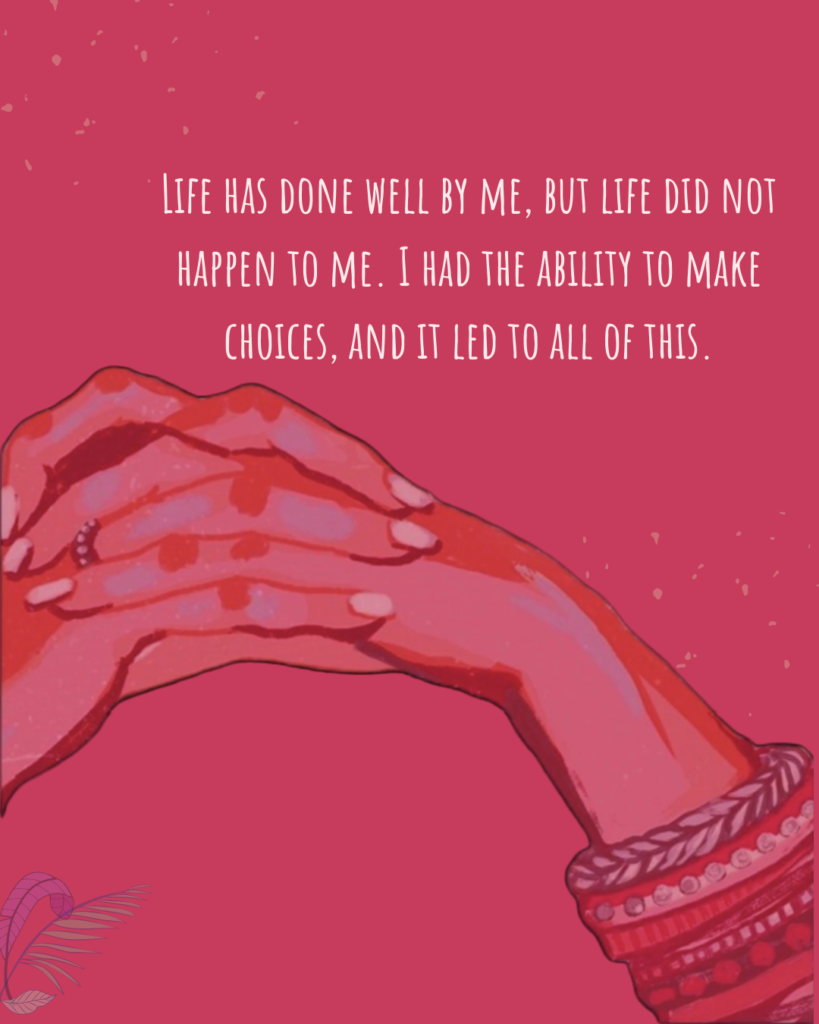 So what is Dava Shashtri's Last Day all about?
Here's The Synopsis
Dava Shastri, one of the world's wealthiest women, has always lived with her sterling reputation in mind. A brain cancer diagnosis at the age of seventy, however, changes everything, as she decides to take her death—like all matters of her life—into her own hands.
Summoning her four adult children to her private island, she discloses shocking news: in addition to having a terminal illness, she has arranged for the news of her death to break early, so she can read her obituaries.
As someone who dedicated her life to the arts and the empowerment of women, Dava expects to read articles lauding her philanthropic work. Instead, her "death" reveals two devastating secrets, truths she thought she had buried forever.
And now the whole world knows, including her children. In the time she has left, Dava must come to terms with the decisions that have led to this moment—and make peace with those closest to her before it's too late.
Compassionately written and chock-full of humor and heart, this powerful novel examines public versus private legacy, the complexities of love, and the never-ending joys—and frustrations—of family.
A Matriarchal Representation
Extract from the afterword:
I had already decided on two things:
1) the character would be a her, and
2) she would be Indian-American.
Patriarchs have long been a cornerstone of pop culture: the powerful male figures who command respect in their professional spheres and demand respect from their families. From King Lear to The Godfather to Succession, there are countless examples of these kinds of "great" men in film, TV, and literature, many with long-suffering spouses by their sides. So when developing my protagonist, I wanted to create a legacy-obsessed female character who detested "The Wife Of" designation, and did everything in her power not to be regulated to the sidelines of history. I wanted to give her a husband who not only supported her, but understood how deeply important this notion was to her. And I wanted this woman to be the head of a powerful family—and be an Indian woman, at that.
Needless to say, I LOVED that the story showed how women, particularly of the AAPI heritage have built generational businesses and legacies that have often been forgotten or "corrected" in our history. While Dava is not a real person, she symbolizes not only the hard work and business acumen that women have showcased since time immemorial, but also the tough choices and gray areas they had to navigate under the judgmental eyes of society for their choices and ambition.
By no means is Dava perfect nor are some of the other characters, and they make mistakes like any of us, which is what makes them real. Without giving any spoilers (as I want you to read and enjoy this book if you haven't already!), the story constantly shuttles between past and present, highlighting different phases of Dava's life—her childhood, youth, marriage, and later years—as well the many choices, mistakes, successes, failures, and regrets she made along the way.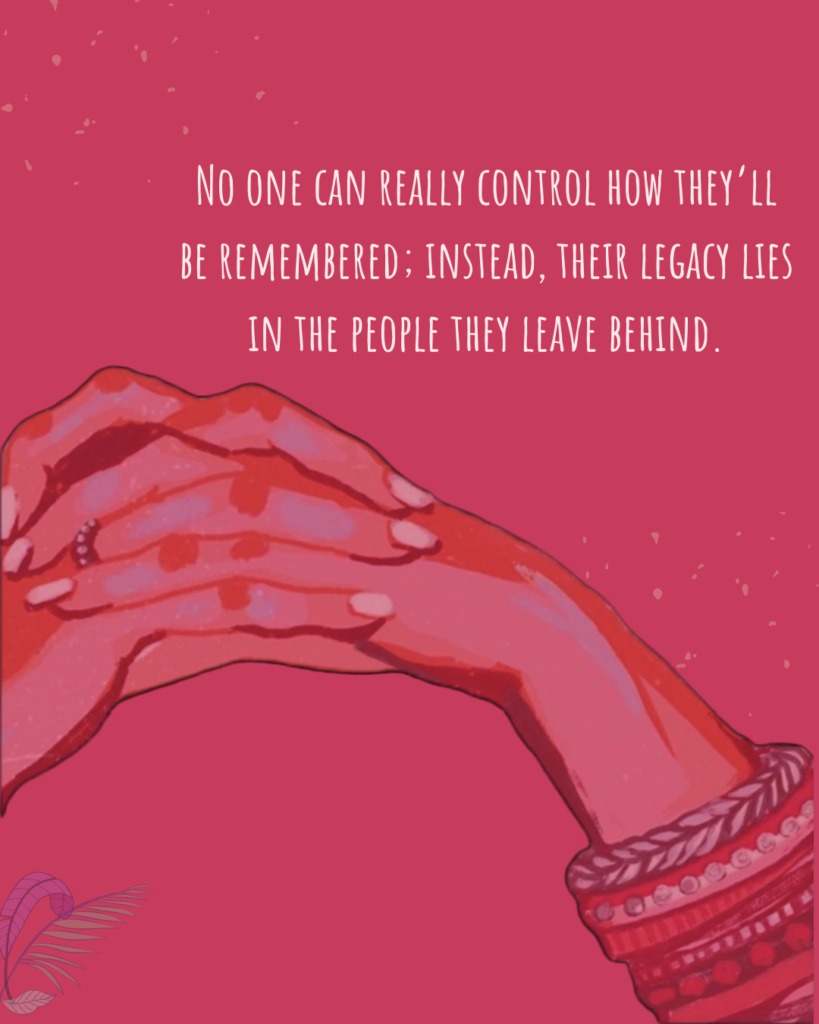 Music
"Family, legacy, media, fame, obituaries, gossip. It was akin to ingredients in a stew, and I had to find a way to blend them so they all made sense together. And so I turned to music." – Kirthana
For fans of Daisy Jones And The Six, and in general music lovers too, this is a great read as it explores the wonderful world of pop music that many grew up listening to, or love listening to even today. There is also an original song composed in this book!
Check out the Spotify playlist of all the songs from this story.🎼
Book Clubs & Accolades
Kirthana's heartfelt and thought provoking debut novel has been a pick of Good Morning America Book Club and Lilly Singh's Book Club. It was widely reviewed and recommended on several international book lists including The View, Amazon's Top 100 Picks 2021, Debuitiful, American Booksellers Association, Bustle, GoodReads, The Washington Post, Time Magazine, and more.
This book has been roped in for a movie adaptation as reported on Variety too! How fun! (P.S. This cover image is so dominantly beautiful, and I think the illustration looks highly similar to Bollywood actor Rekha. I wish they would cast her for this project!)
---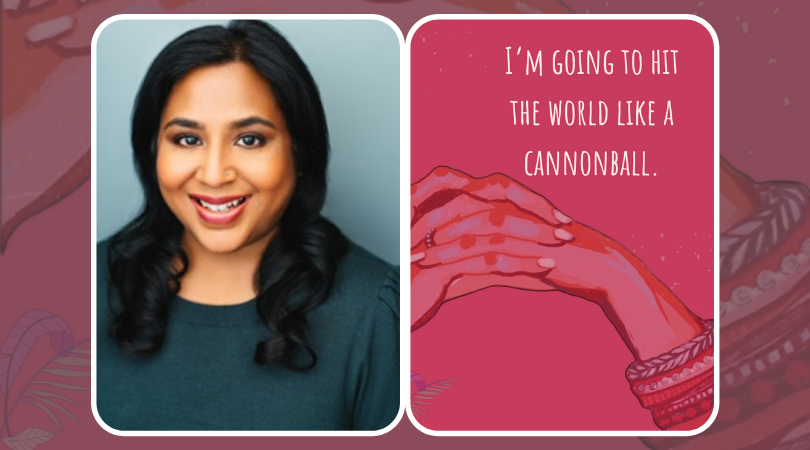 Q&A With Kirthana Ramsethi
# How would you describe Dava and what did you personally learn while developing her character?
Dava Shastri is bold, passionate and unapologetically ambitious, someone who lives her life with a rare kind of certitude about her goals and desires. Family and legacy are what she values most in the world, and Dava goes to uncommon lengths to cultivate both to her liking. Eventually, she experiences the consequences of her controlling nature, and in the process, finally learns to let go.
What I learned while developing Dava is rethinking the concept of legacy. I had once thought the word only belonged to boldfaced names, the kind of people who would get their obituaries published in The New York Times. And in the process of crafting Dava's character and detailing all the ways she was shaped by her parents and upbringing, and in turn her impact as a wife, mother, grandmother and philanthropist, my definition of legacy changed. I now understand "legacy" is a word that belongs to all of us, as we can all have a major effect on our families, friends and communities.
# Your book touches on a lot of relevant topics — the spotlight long overdue on our matriarchs, the importance of legacies, and the journey of building an empire. What drew you to these themes?
When I was an entertainment reporter, one of the stories we often had to cover was the deaths of celebrities. As a part of that coverage, we had to be attuned to the public response on social media. And each time I saw the collective outpouring of grief in response to the news, I was curious if other notable figures would see the reaction and wonder what would be said about them when they passed away. That led me to come up with my novel's premise: What if there was a famous person so obsessed with their legacy that they leaked news of their death in order to read their obituaries? And I really wanted to know who this person would be, how she would be able to accomplish it, and what would drive her to do something so extreme.
Once I came up with the premise, I immediately decided that not only would the main character be an Indian-American woman, but that she would also be a matriarch. From The Godfather to Succession, popular culture has often centered and celebrated patriarchs. I wanted to write about a matriarch who was just as powerful and flawed and interesting as "these great men," a woman whose pride in her work and legacy was equal to her love for her family.
Building a business empire requires a lot of sacrifice, especially as a mother. I wanted to portray a woman who was so determined to live a significant, impactful life that she made non-traditional choices, including sometimes putting her needs ahead of her husband and children.
# Families hold each other close, especially in the Asian culture. And you highlight a beautiful family, a long list of characters and love stories in this book, that keep peeling layers off as we read on. What was your inspiration for this?
I have always been such a fan of family sagas, and so when I came up with the premise of my novel, it made sense to me the main character would be a matriarch with several children and grandchildren. By having such a large family, I was able to explore how each child in the Shastri-Persson household was affected by being born into a life of privilege, and a strong figure like Dava as their mother. Each of them feel the weight of their mother's expectations in different ways, and this ends up shaping so much of their personalities and choices. Also, one of the joys of writing my novel was exploring complicated sibling dynamics. And by placing them into unusual circumstances, they are forced to have raw, honest conversations they likely wouldn't have otherwise.
# You dive deeper into the culture of social media & its impact. What would you say about the increasing disconnect between the portrayal on social media and reality?
I think there's always been an innate curiosity about how we are perceived by the world, that's human nature. But no doubt it's been amplified by social media. When we have an opportunity to present the best version of ourselves with our social media profiles, of course we want to see how that version is received. Then the challenge becomes how to separate a public persona, which is often so carefully curated, from the real, flesh-and-blood person you are, and let yourself feel human. Now more than ever, it's harder to admit to vulnerability or imperfection either online or IRL.
# How did you manage to write such an engaging, loaded, and yet cinematic & funny novel?
That's so nice, thank you! For me, I think it starts with writing the novel I have always wanted to read. And beyond that, Dava was my third attempt at writing a novel, and publishing a book had been a lifelong dream. When I decided to write this book, I wanted to make sure it gave me a lot of joy, so that if I did not get published, it still would have felt like a worthwhile project. I accomplished this by writing a book that let me explore my interests, including family, legacy, celebrity and music. So hopefully the pleasure I had in writing this novel is also felt by the reader.
# For fans of Dava Shastri's Last Day, which other books would you recommend that you liked reading?
As I mentioned before, I'm a fan of family sagas, and some of my favorites are The Sleepwalker's Guide to Dancing, by Mira Jacob, Life After Life by Kate Atkinson, The Immortalists by Chloe Benjamin and What a Happy Family by Saumya Dave.
If you're a fan of novels in which music has a major presence, then The Final Revival of Opal and Nev by Dawnie Walton is a must read. For an exploration of how social media can shape our public personas and private selves, I highly recommend A Novel Obsession by Caitlin Barasch. Also, A Visit to the Goon Squad by Jennifer Egan has always been a big influence on me as a writer and my approach to writing Dava, and its sibling novel The Candy House is equally imaginative and engrossing.
About the author:
As a former entertainment reporter for Newsday and the New York Daily News, Kirthana Ramisetti has written her fair share of stories about the lives (and deaths) of the rich and famous. She has a master's degree in creative writing from Emerson College, and her work has been published in the New York Times, the Wall Street Journal, Entertainment Weekly, The Atlantic, and more. Dava Shastri's Last Day is her first novel, and she lives in New York City. (@kirthanaramisetti)
---
Check out my Kindle Highlights from this book and let me know your thoughts on reading this book in the comments below. If you are looking for more Asian American and Pacific Islander stories, read some book recommendations in this AAPI blog post and other book posts too. Happy Reading!📚