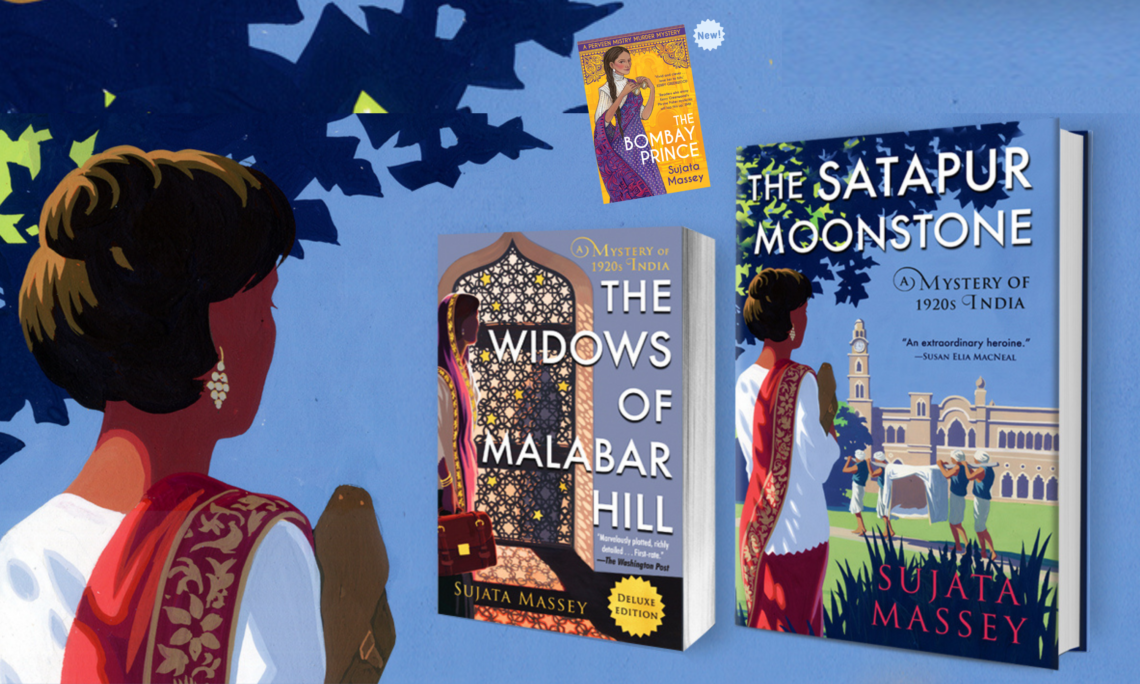 Meet Perveen Mistry: A Desi Female Sherlock Holmes – Series Review
"She had been meant to die, yet she'd cut her way out of that fate and back to the world she loved."
---
The year was 2018. I was living in downtown San Francisco and one of my favorite pastimes was to spend Sunday afternoons browsing books in local indie bookstores that are an integral part of the Bay Area community in California. As per ritual, I went to one of my favorite local bookstore in the city, and was browsing through the mystery section when I chanced upon a purple book cover with a saree-clad female holding a briefcase and looking through a meshed window. This window was a very typical style I've noticed in old Indian houses and moreover, the title said The Widows Of Malabar Hill – Malabar Hill a prominent part of South Bombay even today. I was intrigued from the get-go. The cover mentioned it was a mystery of 1920s Bombay by author Sujata Massey, published by Soho Press. How could I have never known about this before?!
---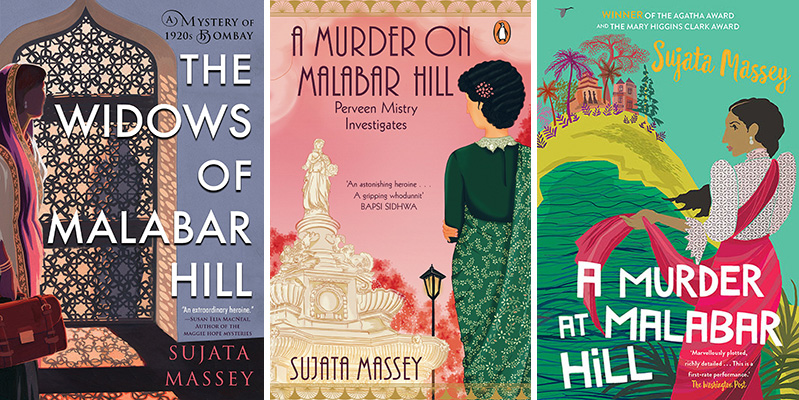 The Widows Of Malabar Hill (Book One)
Synopsis:
Bombay, 1921: Perveen Mistry, the daughter of a respected Zoroastrian family, has just joined her father's law firm, becoming one of the first female lawyers in India. Armed with a legal education from Oxford, Perveen also has a tragic personal history that makes her especially devoted to championing and protecting women's rights.
Mistry Law is handling the will of Mr. Omar Farid, a wealthy Muslim mill owner who has left three widows behind. But as Perveen goes through the papers, she notices something strange: all three have signed over their inheritance to a charity. What will they live on if they forfeit what their husband left them? Perveen is suspicious.
The Farid widows live in purdah: strict seclusion, never leaving the women's quarters or speaking to any men. Are they being taken advantage of by an unscrupulous guardian? Perveen tries to investigate and realizes her instincts about the will were correct when tensions escalate to murder. It's her responsibility to figure out what really happened on Malabar Hill and to ensure that nobody is in further danger.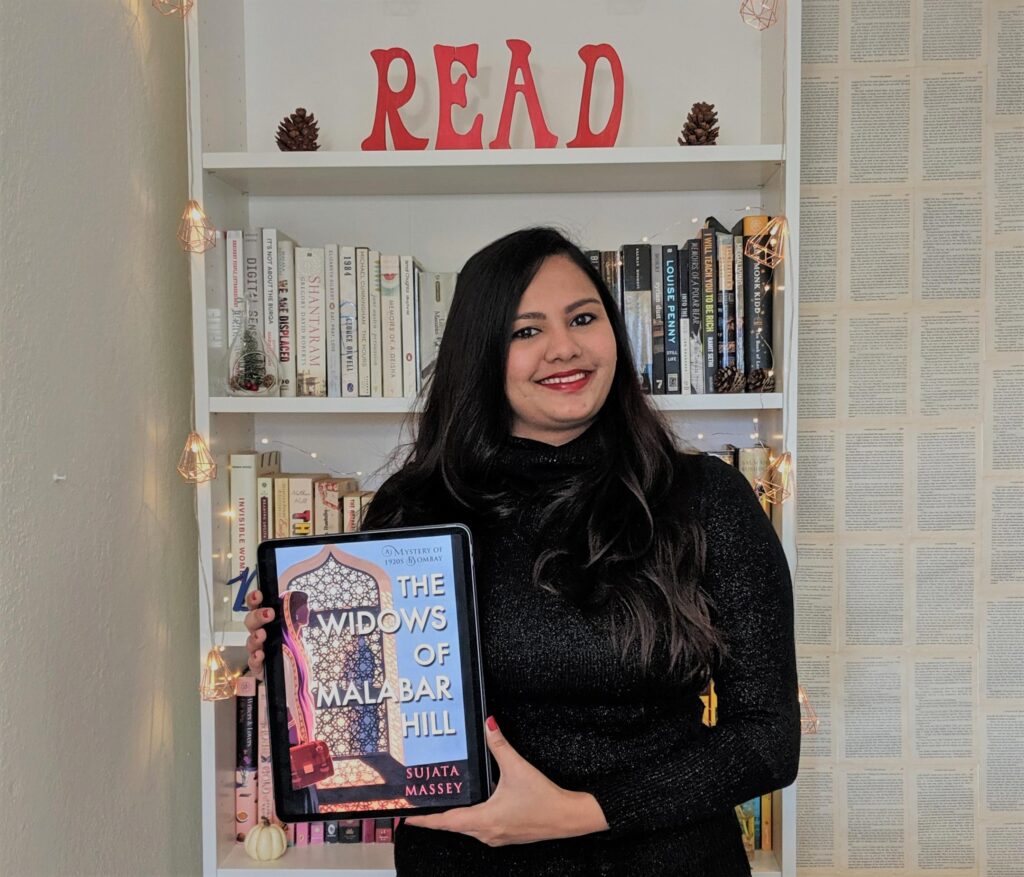 While growing up I was a huge Sherlock Holmes and Miss Marple fan and started my reading journey with crime fiction and thrillers. My love for historical fiction also has been very zealous since my childhood days. So, the moment I saw a book which tells the fictional story of Perveen, India's first woman lawyer who solves crimes, I knew I had to get my hands on it!
Set in the 1920s, during the British rule, The Widows of Malabar Hill revolves around a Parsi female lawyer, Perveen Mistry, based on a real-life persona, Cornelia Sorabji, who was the first Indian woman to study law at Oxford and become a solicitor in Bombay. The essence of this novel is two-fold. There is the murder mystery in which only Perveen has access to gaining all sides of information, and there is Perveen's story of her struggle as a woman in India. Author Sujata Massey sheds light on the various religious communities in India and especially taught me so much about the Zoroastrian families, their cultural history and especially the food!
Though I was taken in by the unique historical background set by the book, what resonated the most with me was Perveen's struggles to establish herself at a time when women did not hold a strong position in society. The manner in which she is shown to oppose societal views on potentially safe career plans for women reminded me of my own struggles to pursue unconventional career options years ago. It was a reminder that many of the obstacles faced by her, unfortunately, remain relevant even today.
"She wasn't excited to leave her beloved home. But if she became Bombay's first woman lawyer, that would string the beads back on the ruined necklace and turn them to diamonds."
There are also the supporting characters like the three widows who each have a character arc of their own along with their agent Omar, Perveen's family, and her best friend Alice, all of whom are instrumental to her life story and the plot of the book. On the whole, Perveen's plucky yet vulnerable and realistic character graph has encouraged me to explore more women-centric crime fiction books. Here is a complete list of my favorites. I would strongly recommend this book to those who have shied away from this genre before and you'll find yourself captivated by our very Indian female Sherlock Holmes!
Soho Crime, whose mandate is to publish "atmospheric crime fiction set all over the world," has made an excellent addition to their list with this novel, and book designer Janine Agro has created a very attractive frame for Massey's work. (Side Note: All the international book covers for this series are gorgeously amazing!)
Winner of the Agatha Award
The Macavity Award
The Lefty Award for Best Historical Mystery
The Mary Higgins Clark Award
---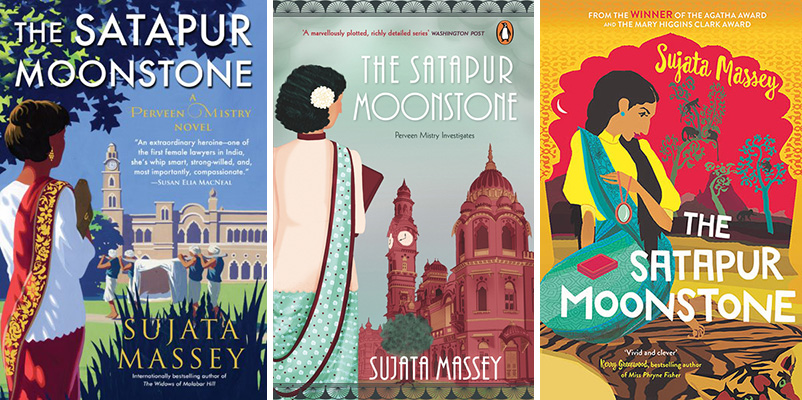 The Satapur Moonstone (Book Two)
This was the highly anticipated follow-up to the first Perveen Mistry book. Here is the synopsis:
India, 1922: It is the rainy season in the lush, remote Sahyadri mountains, where the princely state of Satapur is tucked away. A curse seems to have fallen upon Satapur's royal family, whose maharaja died of a sudden illness shortly before his teenage son was struck down in a tragic hunting accident. The state is now ruled by an agent of the British Raj on behalf of Satapur's two maharanis, the dowager queen and her daughter-in-law.
The royal ladies are in a dispute over the education of the young crown prince, and a lawyer's counsel is required. However, the maharanis live in purdah and do not speak to men. Just one person can help them: Perveen Mistry, Bombay's only female lawyer. Perveen is determined to bring peace to the royal house and make a sound recommendation for the young prince's future, but she arrives to find that the Satapur palace is full of cold-blooded power plays and ancient vendettas. Too late, she realizes she has walked into a trap. But whose? And how can she protect the royal children from the palace's deadly curse?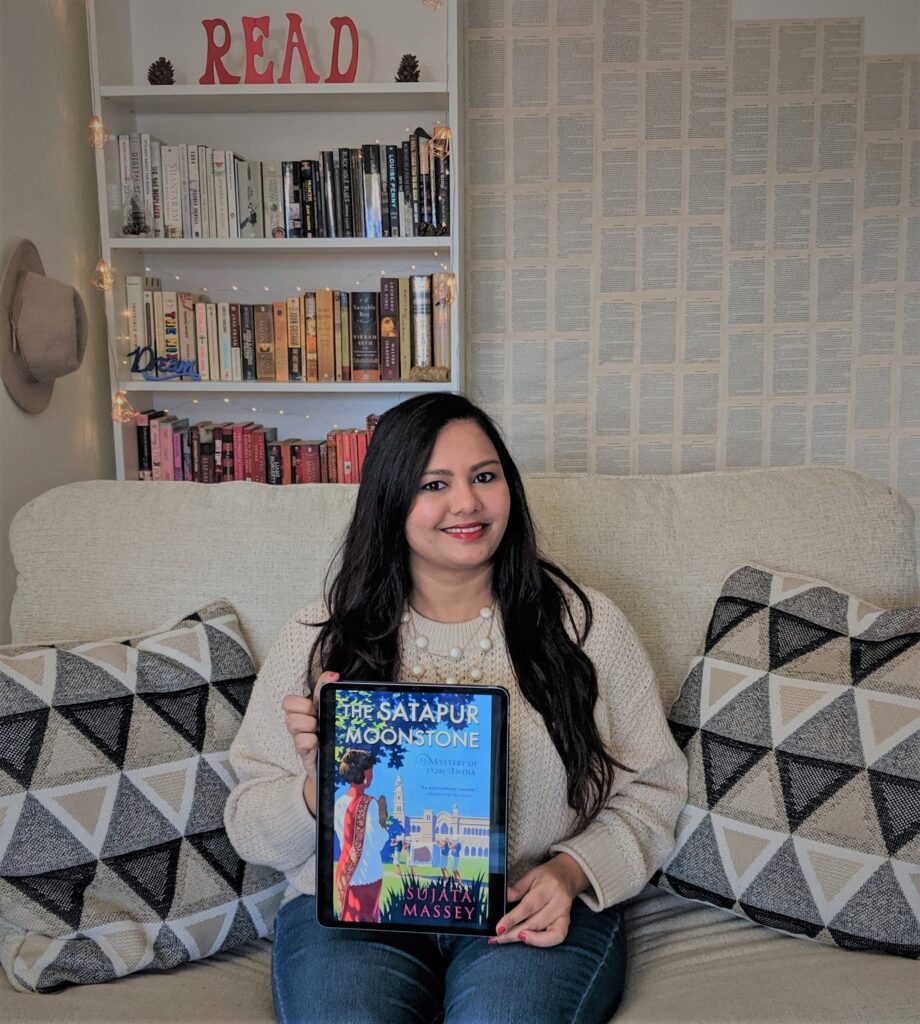 The Satapur Moonstone is set in 1922, India. You get transported into the world of a small village near Kolhapur in Maharashtra, in the rainy season with the lush forests surrounding a royal palace, a multitude of animals including horses and monkeys, and a sense of danger lurking in every corner. I picked up this book from my local library after the global pandemic started, reading it while being in quarantine. It was most definitely a great sequel to the first one. While both the books are independent, I was in awe of just how well the author has continued Parveen's adventures and her life story. This is yet again a genre-bending story encompassing traditional mystery, domestic fiction, historical fiction, and a legal thriller like the first one.
The best part of this character-driven story is the protagonist – Perveen is a one-of-a-kind confident, determined, practical, wounded, ahead-of-her-time protagonist. She is destined to find a home with fans of like-minded female investigators such as Maisie Dobbs. Her Sherlock-like attitude to be nosy and poke in other people's business to find out the reality (always coming from a place of empathy and a tendency to help make things better) and be totally consumed by the case at hand, makes her a real asset as a lawyer and a woman almost immune to the fear of the realities and challenges of her time.
"Perveen Mistry is an unforgettable heroine, fighting for justice in an enigmatic, beautiful and flawed world. With gorgeous prose, Massey weaves a captivating mystery."

– Allison Leotta
The supporting characters like the Maharanis of Satapur, the British agent Colin Sandringham, and others are written wonderfully in this book and add more complexity and layers to the story. Perveen's best friend Alice also makes a cameo. The writing is crisp and the plot tightly-bound making this a highly entertaining read.
Sujata Massey did a remarkable job of surrounding the readers with the sights, the customs, the food, and the interactions of the Indian countryside. With great storytelling, fascinating characters, and a smart, courageous heroine worth investing in, it has left me wanting for more.
Book Three Released! : The Bombay Prince
My wish, like many other readers, was granted recently when author Sujata Massey and publisher Soho Press released the third book of the Perveen Mistry series – The Bombay Prince. The success of this series has been tremendous and so naturally there had to be a third part. The book was released in June 2021 and I am definitely enjoying reading it and meeting some great new and old characters! It is as engrossing and masterful as the first two books, and shows Perveen's grit, determination and vulnerability beautifully. Sujata Massey is an author to watch out for. Her novel "The Salaryman's Wife," won the Agatha Award (named for Agatha Christie) for the best first novel. Check out her interview about writing this phenomenal literary heroine in The Seattle Times.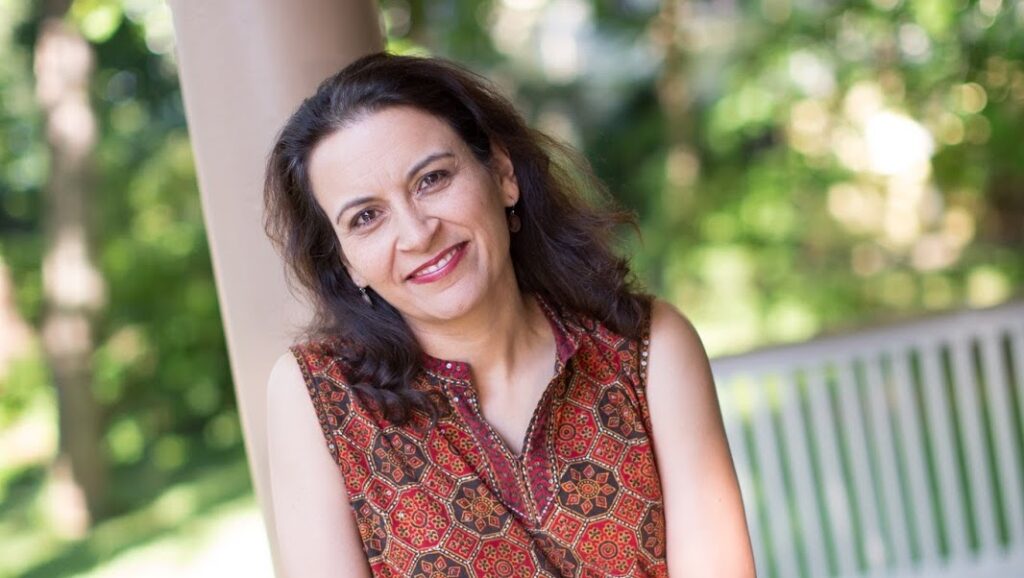 ---
Check out my recommendations of other literary detectives, some influential women's stories that I read last year, and some engaging memoirs written by female authors to get you into reading more books if you ever face a reading slump! ??