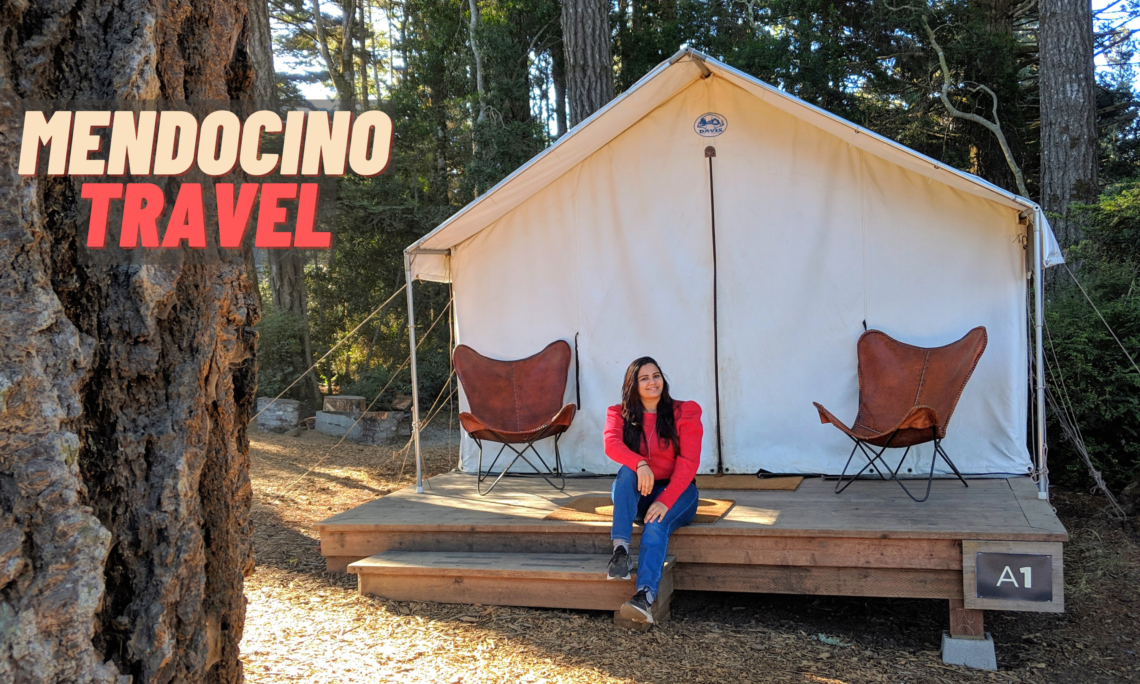 Mendocino – The Secret Corner Of Paradise In California
So the biggest thing on everybody's mind is – what places are safe to travel to as we battle the pandemic with vaccines and social distancing? If you plan on using your own transport, traveling only with your family, and not crowding up places that already have populous hubs, while wearing masks at all times and socially distancing yourself from other travelers, then I say go ahead and travel responsibly!
There are several places now opened up in California for safe visitation, but I've got the best one for you:
Mendocino County
Mendocino is an enchanted place filled with real, unspoiled California opportunities and inhabited by fun-loving misfits, mavericks, and makers. I choose to visit this beautiful place as my first travel destination after the lockdown. As I stepped out of my house after quarantining for a long time, I was extremely happy with the choice I made! (bookmark this guide to help you plan your visit too).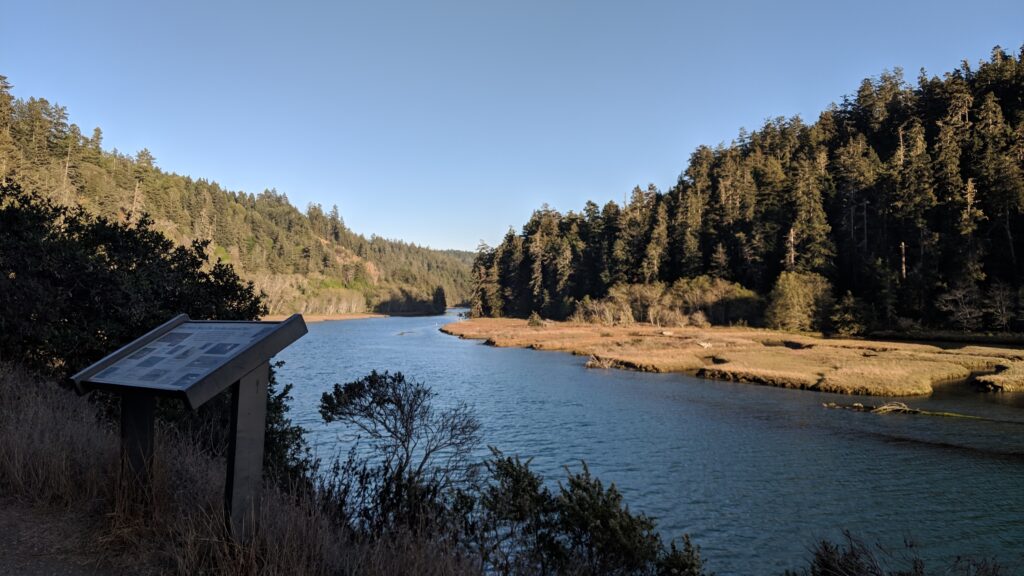 Located approximately equidistant from the San Francisco Bay Area and California/Oregon border, it is the southernmost California county to be included in the World Wildlife Fund's Pacific temperate rainforests ecoregion, the largest temperate rainforest ecoregion on the planet. The county is famous for its distinctive Pacific Ocean coastline, its location along California's "Lost Coast", Redwood forests, wine production, microbrews, and liberal views about the use of cannabis.
---
Jaw-Dropping Coastal Views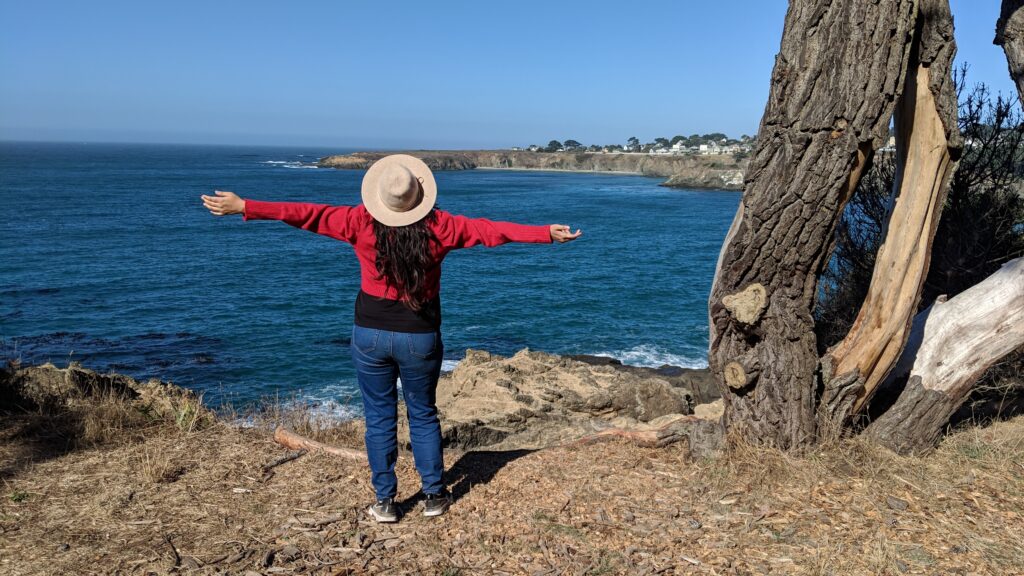 Known as the spot on the California coastline where the river meets the sea, Mendocino is all about crashing surf, magnificent headlands, and tide pools teeming with marine life. Less than two hours north of San Francisco, this chilled-out county is a world away from your crowded cityscape. It definitely has been my first glimpse of the beautiful and unexplored Northern California. The best things to do in Mendocino are wide-ranging — from outdoor adventures and taking in the stunning scenery, from exploring the food and wine scene to hidden gems downtown. However, my favorite aspect of Mendocino was the intentional and slower pace of life that instantly comes over you as you begin to breathe in the fresh air that whips in across the rugged coastline.
A big attraction beyond the obvious natural scenery is the fact that jaw-dropping coastal views and magical Redwood forests are literally within a short drive from one another, which provides a unique mix of scenic experiences.
---
Glamping in Mendocino Grove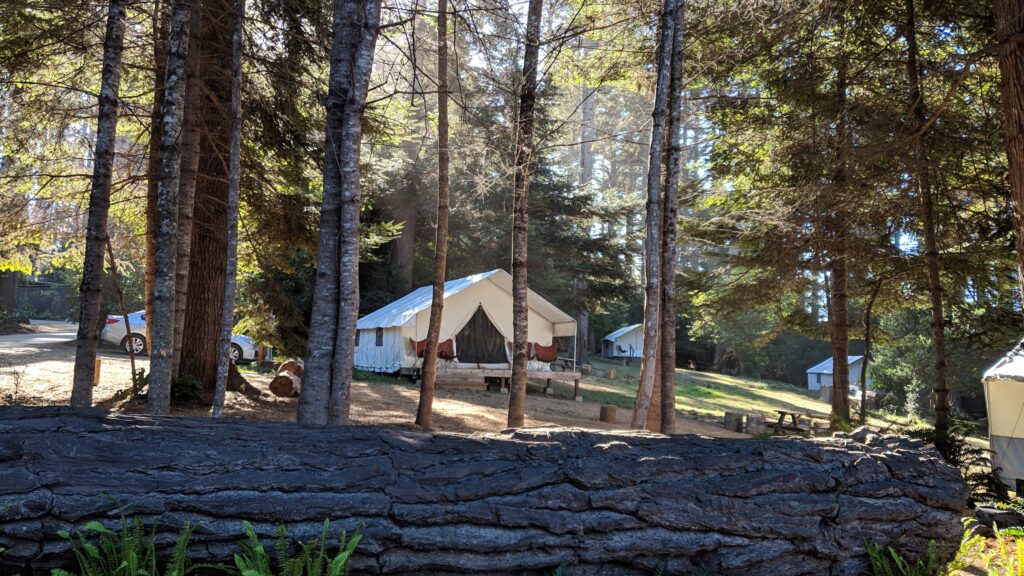 I am so happy that I booked this amazing place to experience my first visit to Mendocino! Mendocino Grove provides the unique experience of 'glamping' (camping like a VIP) that you simply can't deny with its appeal of four-star comfort in a wilderness setting. Mendocino Grove hosts a collection of plush safari-style tents and refurbished Airstream trailers tucked into 32 wooded acres in Mendocino County. Wi-Fi, hot showers, and gas barbecues are available in this perfect hideout, especially if you are looking for something safe and secluded with minimal risk for Covid. There are simply so many things to do here, that you can never run out of activities. Their website is full of important and useful tips, especially for first-time campers or visitors here, so make use of it while planning your trip.
The surrounding redwood forests, coastal bluffs, beaches, and meadows provide plenty to do during the day for both you and your family or pets (this place is so pet-friendly, they even have a dog washing station!). On weekend mornings, gentle yoga classes are available at the Meadow Common, which also serves as the community hub with games including bocce and corn hole. The friendly staff helps you to build your own bonfire and even cook on it living completely wilderness style. And if you are not into it, then there are always several local restaurants providing meals-to-go for you to sit and eat by your bonfire and enjoy the beautiful starry views of the night that are incredibly stunning and unforgettable!
Set aside time to explore the tidal estuary of the Big River in a hand-carved outrigger canoe from Catch a Canoe, or rent one of their bicycles to explore the river banks and forest. At sunset, experience the beauty of bioluminescent plankton casting a light green glow just below the surface of the water. And of course, there are hikes—literally hundreds of them.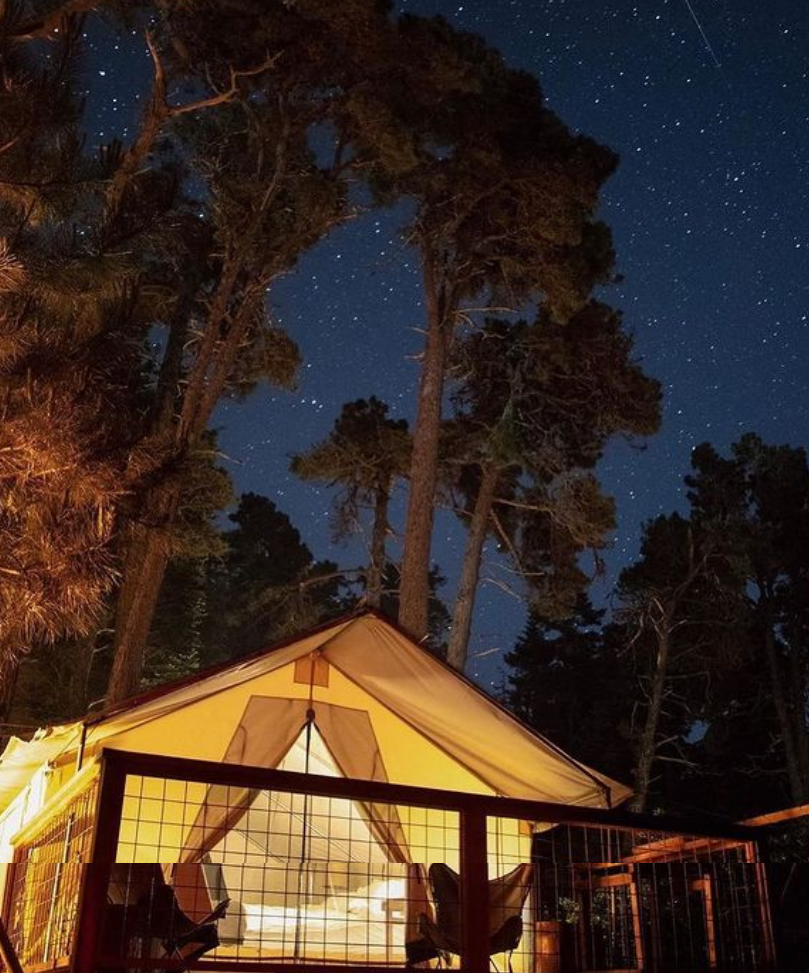 ---
More Great Places to Stay in Mendocino
B&Bs: Mendocino Bed and Breakfasts are most often located within a Historic Victorian that's been renovated to accommodate overnight guests in private bedrooms. Homemade breakfast is included in the price, usually served in your room or in the main dining parlor. Travelers who enjoy interacting with local innkeepers, and other guests prefer these accommodations when seeking to experience the local flavor and charm.
Hotels: Mendocino Hotels and Luxury Resorts usually offer multiple guest services. You'll also find B&B Inns in this category if they feature a restaurant, day spa, or other activities. Many Mendocino Hotels have conference areas that invite groups to hold gatherings at their location. Mendocino Hotels differ from motels in that most motels have exterior entrances to the rooms.
Vacation Rentals: Renting a Mendocino Vacation Rental Home is popular with families and couples that want a private family atmosphere with more amenities; such as a kitchen, separate bedrooms, private hot tub, tv, and beach access. Mendocino Vacation Rentals are perfect for extended families attending a wedding or traveling together. Many Mendocino Inns have private cottages on their property that make the perfect vacation rental.
Hiking In State Parks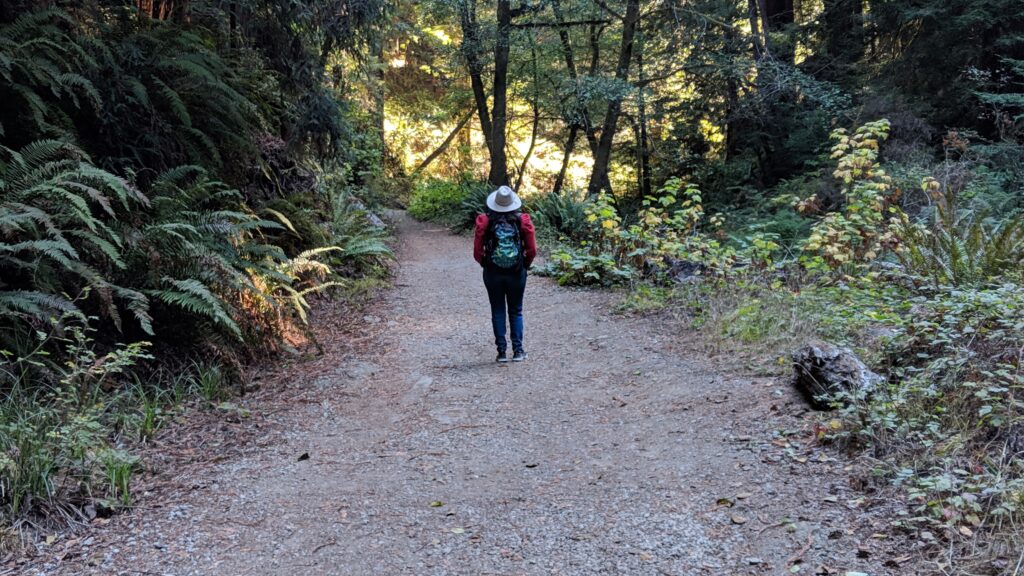 I have never seen so many hiking trails in one county ever! You can bike around Mendocino Village, on Big Rivern trail or Fern Trail, or along the ocean on Ten Mile Beach Trail 14 miles north in Fort Bragg. Hikers enjoy a variety of options, from local state beaches along the coast or inland through dense redwood forests—see our favorites below.
All local state beaches also offer the opportunity to embark on a beautiful hike, either along the coast or inland through dense redwood forests. Paths and trails are available for every level, from rigorous day-long hikes with steep ascents to tranquil walks through fern canyons, pygmy forests, and old-growth redwoods. The surrounding state parks have extensive trails, or there are many local free trails with easy access.
Mendocino Grove Loop Trail
This 1/2 mile loop circles the campground and is a great way to familiarize yourself with the area. Expect beautiful views over the fern gully, winding passages through a forest of bishop pines, spectacular views of the ocean, and a good ascent past Ocean Vista viewing deck to a welcoming meadow and hammock.
Spring Ranch
In 2017, this historic property opened a public access hiking trail. As you embark on the 3-mile out-and-back hike, enjoy fields of prairie grass, gorgeous ocean vistas, wildflowers, tide pools, a sandy cove beach, and plenty of wildlife.
Van Damme State Park
Fern Canyon Trail is our go-to hike in the area. The 5 mile out-and-back takes you through a fern canyon alighted on either side with towering redwoods and meandering streams to the curiosity of the Pygmy Forest, where trees can't grow much taller than 3 feet.
Big River State Park
The campground neighbors have one of the most popular beaches and riverfront parks in the area. A 16-mile return fire trail along the river is a great adventure either on foot or mountain bike – and it goes without saying that a canoe trip up this historic river is an adventure you will not forget. Mountain bikes and beautiful out-rigger canoes are available to rent at Catch-a-Canoe, just a short walk from the campground.
Mendocino Headlands Trail
This beautiful bluff trail is accessible from all points of Mendocino Village. It meanders around the town and is the perfect trail to walk, jog, whale watch, and explore nearby tide pools and beaches.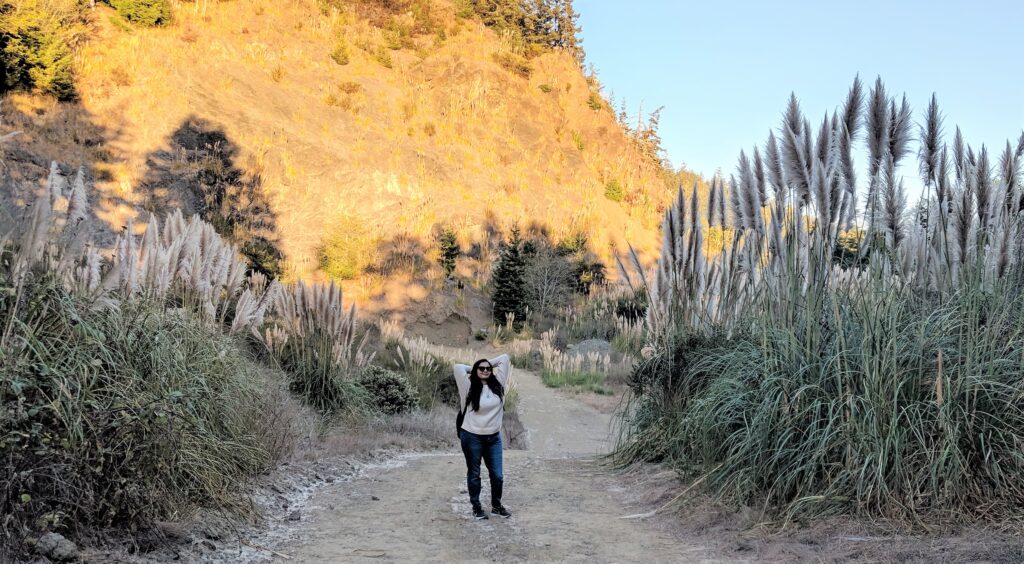 Russian Gulch State Park
The 6+ mile Fern Canyon to Falls Trail is a must when visiting the area. The loop trail takes you through fern meadows and towering redwoods, over meandering streams, to a spectacular year-round 36-foot waterfall, making this one of our favorite hikes.
Point Cabrillo Light Station State Park
A paved walking path takes you from the parking lot to a beautiful lighthouse, which has been designated as "one of the most complete light stations in the United States." Since 2011, a trail now takes you to Caspar Headlands State Beach one mile to the north, passing Frolic Cove along the way.
Jug Handle Beach & Reserve
This reserve features the Ecological Staircase Trail, which covers varying micro-ecosystems and measures 5 miles from the beach to the pygmy forest and back.
---
Dreamy Vibes of Mendocino Village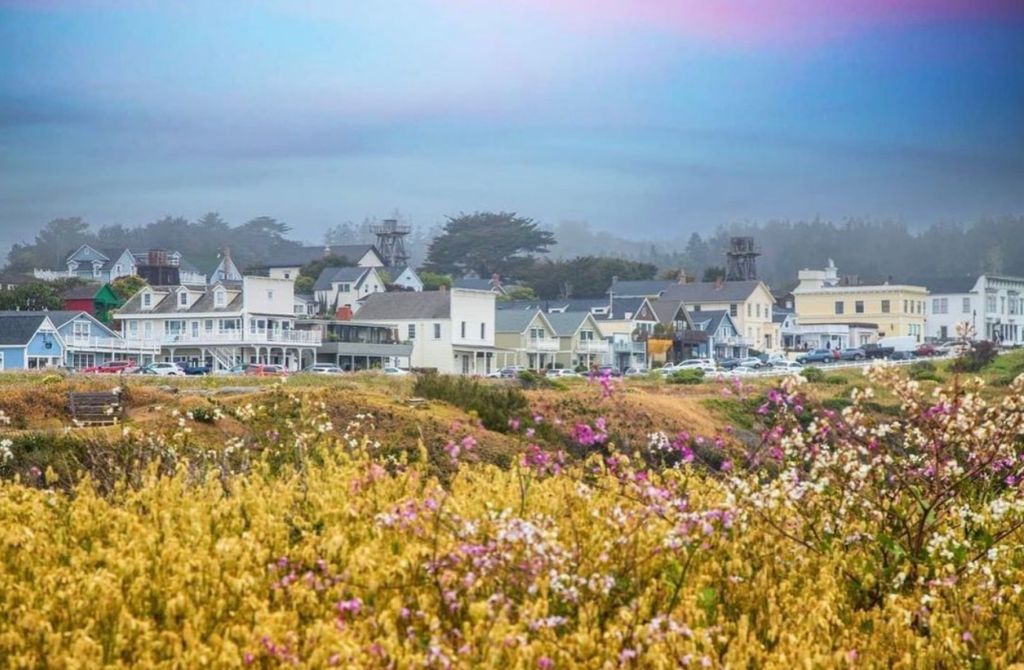 The entire village of Mendocino is designated as a historical landmark and is the only town on the California Coast that is designated as a Historic Preservation District. Established in the 1850s, many of Mendocino's first residents came from Maine, so it is not surprising that the architecture resembles that of a New England village, with charming Saltbox cottages, unique wedding venues, and stately Victorian mansions.
With eateries and fine dining restaurants, little shops and boutiques, and beautiful picturesque houses to drive by, Mendocino looks like a town out of a Victorian novel.
Where to eat?
Here are some great restaurants to visit in Mendocino/Fort Bragg to have a real Californian treat! The staff at Mendocino Groove recommends some here, and apart from that, some popular traveler favorites are below:
From its venue in an 1893 Victorian farmhouse, Cafe Beaujolais focuses on organically grown produce and wild-caught seafood. The cafe's large garden filled with antique roses and edible flowers adds to the ambiance. Try specialties such as the Snake River Farm's pork belly tacos or the roasted half chicken marsala.
Featuring sweeping ocean views, the Little River Inn Dining Room offers a breakfast and dinner menu that specializes in creative seafood dishes as well as hearty soups and entrees. Try the Swedish hotcakes for breakfast, and the fresh steamed clam chowder or chanterelle stroganoff featuring a variety of foraged and cultivated mushrooms for dinner.
Tucked away near the Noyo Harbor District is the unassuming little Latin-inspired seafood spot, Casa Del Sol. Try the Camarones Ala Diabla, a spicy shrimp platter, or the veggie wet burrito topped with green tomatillo sauce, pickled onions, pico de gallo, cheese, and sour cream.
If Shopping is your Cardio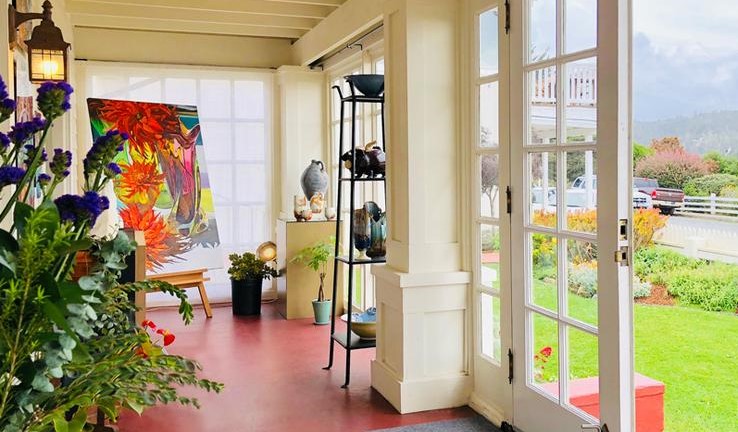 The little town is very stroll-worthy, with beautiful Victorian architecture to admire. Streets are lined with one-of-a-kind boutique shops and art galleries that you will find irresistible.
Apart from these local delights to satisfy the foodie, shopper, and photographer in you, there are several more fun things to do here which you would hardly find anywhere else. Like riding the Skunk Train Railbikes. In an experience that is pure fun, passengers zip along the old rail line on the electric-powered two-person Railbikes with towering redwoods lining the route deep into the forest along the Pudding Creek Estuary.
Also, don't miss out on the art! Originating in the late 1950s when artists Bill and Jennie Zacha arrived in Mendocino with the dream of developing an art center in the former mill town, the Mendocino Art Center today serves as a local art hub.
Wineries in Mendocino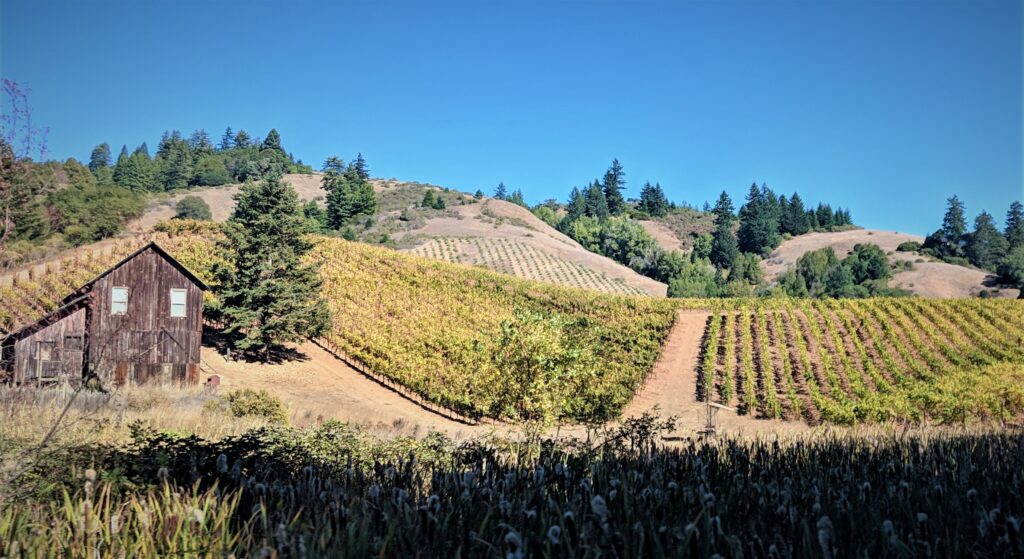 How can I not include wineries while exploring travel in California?! Mendocino is very much like Napa or Sonoma, boasting hundreds of local wineries and farms with tasting rooms, wine shops, and even small rustic farms with farm animals! Many of the Mendocino County wineries are small, family-owned gems. they are some of the best in the country, and you can experience them while soaking in splendid ocean views too! Some hotels like Hotel Sea Rock Inn also offer an exclusive Wine Tour package for their guests. The experts at Wine Country have a list of all wineries worth exploring in this region.
Here are some of my recommendations:
Balo Vineyards is one of the best wineries in Anderson Valley. This charming winery offers picturesque views of the Navarro River and exquisite blends to try. Enjoy a variety of unique vintages and other tantalizing wines while enjoying the laid-back lifestyle of our scenic region.
Since 1955, BARRA of Mendocino has been a wonderful destination for wine lovers. It's actually one of the few Mendocino wineries that produce organic grapes, and they know how to press them to perfection. The Barra winery is close to the Russian River, which provides great local water for the vines. They have a fun tasting room that is open daily from 10 a.m. to 5 p.m. This is a perfect opportunity to drink their wines and ask questions about their intricate winemaking process.
Foursight Winery is a locally owned and operated place that offers some of the most phenomenal Anderson Valley Pinot Noir. Tour the property and learn about old-world techniques, which are used to produce each of the estate wines. You can then relax and walk through the rows of vines with a glass in hand. Or sip, savor, and socialize in the wonderful tasting room!
Goldeneye Winery proudly exports some of the most fabulous varietals in Anderson Valley. After one sip of the signature wine, your taste buds will ignite with the regionally inspired flavors and carefully aged tastes. From the award-winning Pinot Noir to the enticing Pinot Gris, Goldeneye has it all. You can even choose the Elevated Tasting Experience, during which you'll receive a personal explanation of the winemaking process (and enjoy delicious pairings!)
---
Best Time To Visit Mendocino
You can visit Mendocino any time of the year! Expect to pack layers year-round and even more in winter — although it doesn't snow in this part of California. Fog is a constant companion along the Mendocino Coast in the mornings and typically burns off through the day. With Northern California weather, you'll still want to be prepared with a light jacket even in the summer months as temperatures can vary greatly throughout the day.
Mendocino Village hosts a whale fin the first weekend in March, a film festival in May, a music festival in July, and a wine and mushroom festival in November. In addition, there are other festivals in Mendocino County throughout the year, and several activities mentioned above that are ongoing, so check to see what's happening when you visit. I highly recommend social distancing though and planning your own activities to stay safe and have undeterred fun all the time while you are in this Californian heaven! To learn more and explore, check out Visit Mendocino.
GALLERY
---